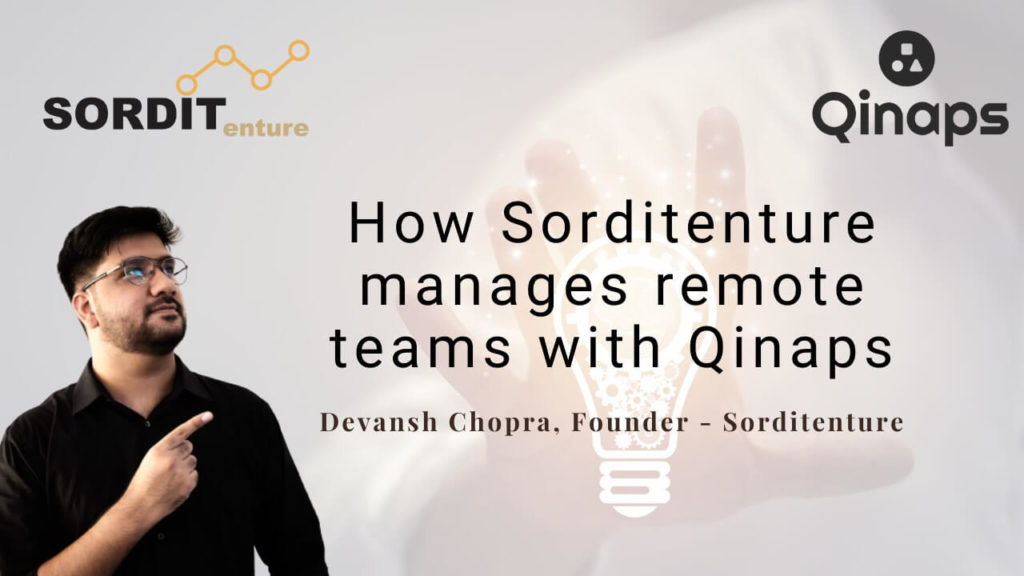 Individual employees in an organization may increase incrementally, but the complexity for each of the function in the organization grows enormously by a factor of 10. Even in a small team and the working relationships have thousands of permutations. When we work with people, complexity is about more than a numbers game. Also, Mathematics can not define the Work Relationships. They depend on factors (environmental, physical, emotional, societal) that affect us on a day-to-day basis. Looking for a long term solution we found Qinaps.
During the pandemic, we have moved to hybrid working environment. The question is: how can we put efficiency and structure behind this complex work environment in a way that accelerates business success instead of impeding it?
At Sorditenture, our goal is to assist our employees to reach their maximum potential even in these trying times. Everyone should have access to the information they need to execute their work, whenever and wherever they require it. A distributed workforce requires active management. This is where Qinaps comes into the scenario and makes our management process simple. Here are some things that have benefited our people managers and leadership thus far.
Culture and productivity are deeply affected by the lack of transparency in our daily progress. Even frequent meetings don't necessarily solve the transparency issue. A key stakeholder might be out of the office and without clear next steps, you'll be back having the exact same conversation soon enough.
Kanban Boards by Qinaps
When it comes to developing effective procedures, the best place to start is at the team level. In Qinaps, the Kanban boards give a mapping as well as tabular view to streamline projects. Everyone can add their ideas and thoughts onto the board at their convenience. Using Qinaps we were able to keep the discussion on track and our teams were allowed to keep a running journal of what was discussed for individuals who were unable to attend the meeting.
But we don't stop at templates for team meetings. We use them for all recurring cross-functional projects at the team level (including things like our customized quarterly content calendar, which also makes use of task templates and input forms to make it easy for anyone across the company to submit an idea.)
Organized way of working using separate workbooks
Consistency in information is the key to success of running a business. Qinaps helps us capture everything from structured formal information, implicit knowledge (applied information or know-how), and tacit knowledge at Sorditenture. It's quite fine for this information to alter regularly as we grow as an organization. No part of this should be stagnant and unchangeable.
Counting the layers of complexity within an organization is pointless. It's impossible to utilize the numbers since they're too high and fluctuate too frequently. Even with completely remote or scattered teams, it is possible to maintain a consistent level of expertise. Just because you can't all be in the same room at the same time doesn't mean that your company culture and employee engagement have to suffer.
If you can remove the guessing and confusion from the informational unknowns and work that needs to be done, you'll free up your team's time to naturally create a culture that is uniquely yours. Qinaps helps in this parameter. You can start your own workbook to combine several documents which can be split later on according to your convenience. You can organize your info in a visual layout, like a big picture containing components on blogs, emails, social posts, articles and more.
Split View Feature by Qinaps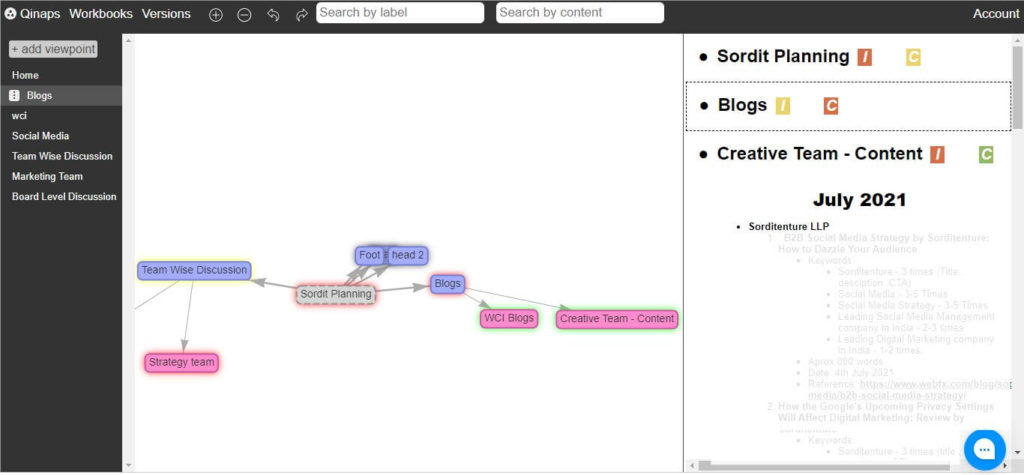 Using Qinaps gave Sorditenture the one thing that every Marketing consulting company craves for that is No Duplication. Qinaps gave us the freedom to work collaboratively on the same content which resulted in only One Single Document. Thus, No duplication and no one had to worry about sending a wrong document or an older version to any client. Also, we did not find any need for sharing an document on Email, Qinaps allowed our teams to share the direct links for the documents with limited-time access. Thus we did not worry about the fact that it might get edited later as we shared the direct links with the specified time frame.
Link Sharing by Qinaps

Qinaps gave the Sorditenture a freedom to work remotely and saved us on cost. Also, helped us in increasing productivity and efficiency for the teams to the utmost satisfaction. Sorditenture now uses Qinaps for managing the fast pace of Digital Transformation and we are now able to work efficiently in remote cultures without having any effect on our deliverables.