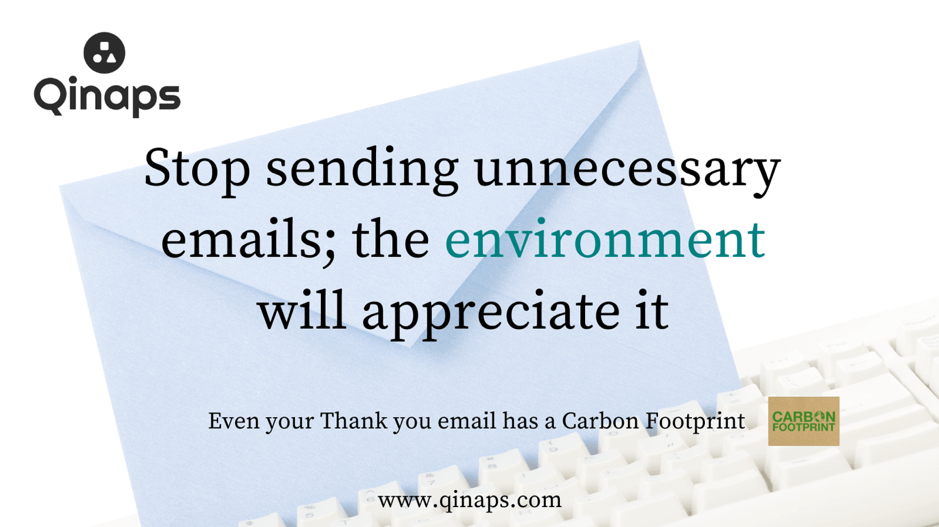 Did you know that every "thank you" & "good morning" email carries a carbon footprint? Sending one email is estimated to result in the release of 0.000001 tonnes of CO2 equivalent. "Emails without a purpose are not only inconvenient, but they also have a huge environmental impact,"
Don't you think you should stop right now? Sending the email is not a good idea. Don't express gratitude or write a witty note. You will increase your carbon footprint if you do so. Be environmentally conscious, say nothing, and save the world.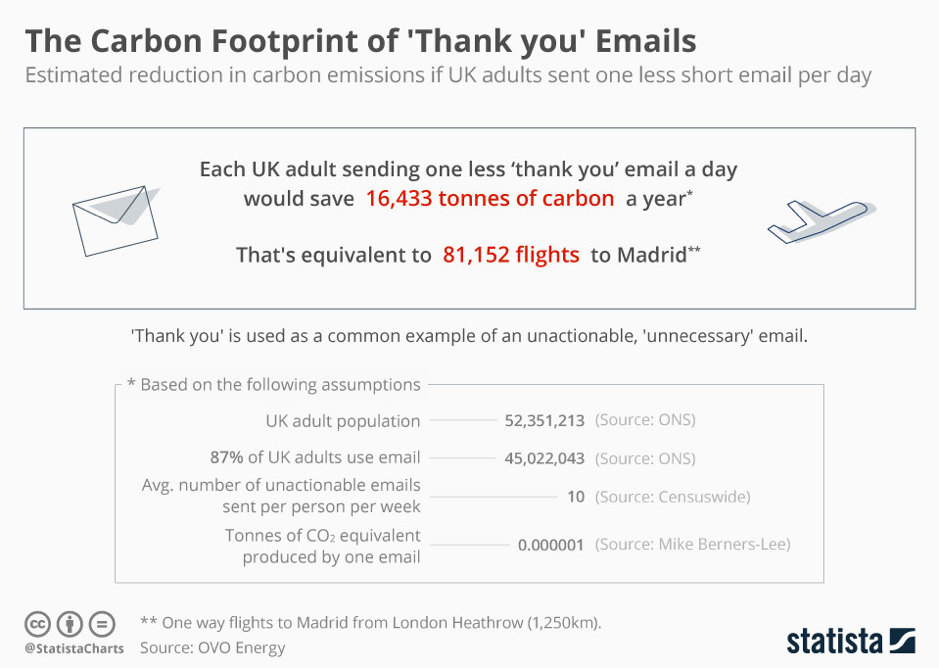 Every day, millions of useless emails are sent, even some that say nothing more than "thank you." These emails are a menace to the environment.
The electricity consumed to power the devices on which it is sent and read, the networks that carry the data, and the data centers that store it all contribute to an email's carbon footprint.
What if, every email user sent one fewer unneeded email each day, carbon emissions would be reduced by 16,433 tonnes, which is the equivalent of 81,152 flights from London Heathrow to Madrid.
The majority of people consider the internet to be a cloud that exists outside of their computing hardware. However, when you send an email – or anything else – it travels through a network of energy-consuming electronics.
Your wi-fi router carries the signal down wires to the local exchange – the green box on the corner – and then to a telecom provider, which then transfers it to the internet giants' massive data centers. Each of these uses electricity, which adds up quickly.
When you consider that the typical person writes ten unactionable, 'unnecessary' emails every week, you soon accumulate a far greater carbon footprint when seen on a national scale.
If it benefitted the environment, 71% of Britons indicated they wouldn't mind not receiving a "thank you" email. Don't you think it's a good idea to plan ahead and reduce your carbon footprint? If you share this viewpoint, begin by raising awareness among others and taking steps to avoid sending unnecessary e-mails! (Source – World Economic Forum)
It's amazing how "Green energy" companies love to utilize data like this to garner free publicity.
Applications like Qinaps allow users to create and store data information and data in re-usable blocks to deliver flexible documents. Documents that can be shared via links instead of attachments within emails. These links can even be set to expire on a certain date. You can kiss the days of emails and attachments, drives storage bye-bye, finally. Qinaps undoubtedly lets you organize your business knowledge base within re-usable blocks. Block structure makes it flexible, and reusable, and reduces the need for versioning while significantly reducing your sharing and storage carbon footprint!
If you found this article useful, head over to "QINAPS".